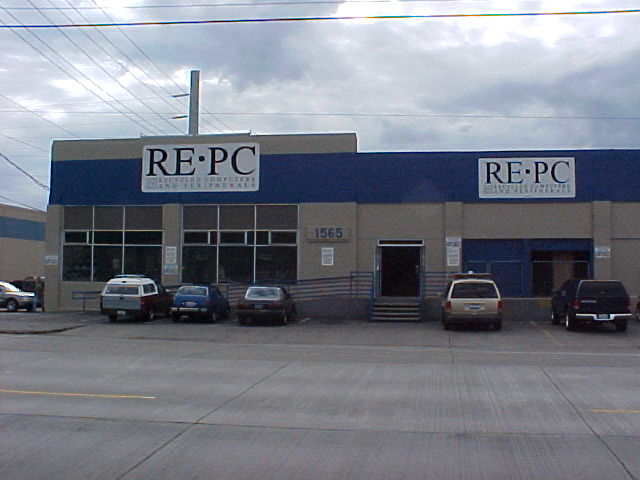 Store Name:
RE-PC Recycled Computers (Seattle store)
Address:

1565 6th Ave. S

Seattle, WA 98134

Phone:

(206) 623-9151

Hours:

10:00 - 19:00 Mon-Sat.

Web Site?
Primary Line:
New & Used Computer Systems, parts, accessories, software.
Secondary Line:
Business equipment, test gear, consumer electronics.
Pricing (Primary Line):
B-
Pricing (Secondary Line):
B-
Variety Grade:

A

Customer Service Grade:
A+
Overall Grade:
B
RE-PC started out with just one store, near the old Kingdome site in 1992, then known as the 'PC-FIXX Clearance Center.' Seattle didn't have a good used-computer place at the time, so the idea (and the store) caught on like wildfire. The clearance operation was sold off in 1994 to Mark Dabek and Steve Hess, partners in the company 'Trailing Edge, Ltd.' They continue to own/operate both RE-PC stores to this day.
The interesting thing about RE-PC is that each store has its strengths and specialties. The Seattle store, unlike Tukwila, is where you should go if you're wanting to do anything at all with Apple/Mac computers, from desktop systems to PowerBooks. More specifically, Chris Mitchell is "Lord of the Mac." Watch him working on one some time: You'd swear he could get it to sit up and beg.
Seattle is also the store to hit if you're interested in the computer museum that RE-PC's owners maintain. They also (I think) have a larger selection of printers than Tukwila does. However, if you're looking more for oddball electronics and parts, Tukwila is the stronger of the two.
One thing I want to point out. If you don't see what you need, ASK AROUND! RE-PC's stock changes almost every day, and it is truly impossible to know what they're going to get in at any given moment.
Whatever you buy from them, or have worked on by their repair staff, you'll get an honest deal and good service. I've known Mark and Steve for years (in fact, I worked for them at one time), and you'd be hard-pressed to find a more honest pair in the computer business.