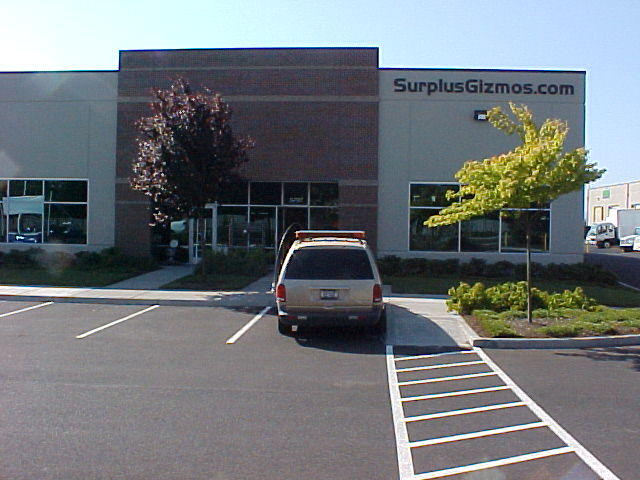 | | |
| --- | --- |
| Store Name: | Surplus Gizmos |
| Address: | Hillsboro, OR 97124 |
| Phone: | Warehouse: (503) 439-1249 / Mobile: (503) 345-9187 |
| Hours: | Tue-Fri 11:00 - 18:00, Sat. 11:00 - 17:00, Other times by appointment. |
| Web Site? | |
| Primary Line: | Wire, Cable, Computer parts and assemblies, RF connectors, relays, fans, power supplies, switches. |
| Secondary Line: | Test equipment, probes, electronics manufacturing and factory equipment, motor controllers, X-Y drives, workbenches, shelving, transit cases, etc. |
| Pricing (Primary Line): | A |
| Pricing (Secondary Line): | B- |
| Variety Grade: | B- |
| Customer Service Grade: | A+ |
| Overall Grade: | B |
(Last Review: 17-Aug-06)
This is a cool store. There's just no better way to put it. In fact, they're dangerously close to being the Mike Quinn's of the Northwest. Name me another surplus place where, for example, you can walk in and practically trip over (of all things) a couple of honest-to-God 'Walk'/'Don't Walk' pedestrian signal boxes!
Their inventory spans a timeline from the late 1970's to near-current. They have a generous assortment of computer and network gear, tools, electromechanical parts, servomotors, motor controllers, industrial hardware, manufacturing equipment, and a small assortment of test gear. Also, like most other surplus places, their inventory fluctuates pretty wildly. This would be a good location to be a regular at.
One caution: The test gear assortment is not the best I've seen. Much of what was there on my last visit would need a LOT of TLC to get going again. Be very careful about what you buy, and try to do at least a basic power-on test before you decide whether to take it home.
The Bottom Line: This is a very worthwhile stop, especially if you need items useful to, say, robotics projects. What I would suggest is hitting up Tek Surplus first (if you're in the area on the appropriate Thursday), and then going the short couple of miles down the road to SG.
The new store has added quite a bit of square footage from their previous location, and they're going to expand still more. Specifically, they're going to add a branch called 'Gizmos, Inc.' which will sell only new equipment and parts. Keep an eye out for such in times to come.
Next Listing (Tektronix Surplus)